What are Spark Clear Aligners?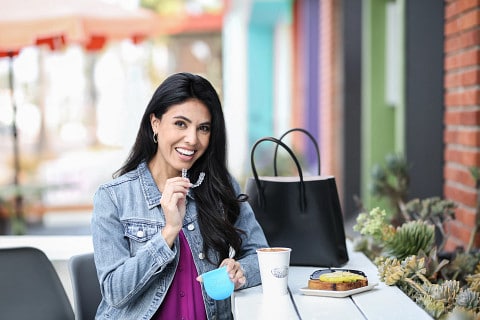 Spark clear aligners work exactly like the leading clear aligner brand on the market. Spark clear aligners are virtually invisible and straight teeth more clearly and more comfortably than ever before.
Top 5 Spark Provider in Australia
With over 500 transformed smiles using Spark clear aligners, Dr De Angelis is one of the Top 5 Spark clear aligner providers in Australia. An amazing achievement only held by a few people in the country so we are absolutely chuffed!
Why Spark Clear Aligners?
Spark was developed with nearly 60 years of orthodontic knowledge that has been used to treat millions of patients worldwide. Manufactured by Ormco, one of the largest, most innovative orthodontic companies in the world, Spark's standards are set high.
Spark Clear Aligner Features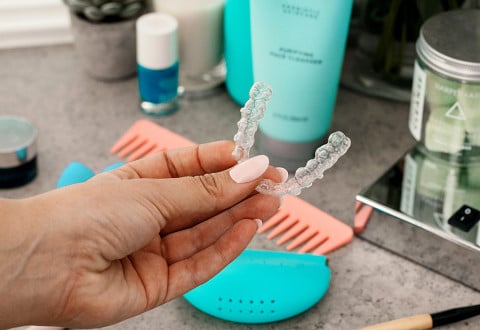 Spark is the clearest aligner, allowing your smile to shine during treatment.*
The Spark aligner material may result in faster treatment goals compared to the leading aligner brand.**
Spark custom rays are trimmed and polished for enhanced comfort.
Spark is proven to provide a more comfortable, productive treatment.**
Spark aligners are BPA free.
What are the advantages of Spark Clear Aligner treatment?
Removable aligners means more effective brushing and flossing
Being almost invisible, the clear aligners are discreet meaning life can go on as normal
Spark is proven to keep your smile shining and minimize aligner stains**
Eat whatever foods you like simply by removing your aligners
Proven to be more efficient and effective than other aligner materials, getting your teeth to the right spot faster!*
Your Spark provider designs the best smile for you, resulting in clear aligners that are custom made to your teeth
Spark same price as Braces
We are thrilled to offer Spark clear aligners for the same price as braces treatment! This now gives our patients greater choice to suit their individual circumstances and lifestyle. So if you are thinking about straightening your teeth, come in and have a chat to our friendly team.
Book Your No Obligation Orthodontic Consultation
Our orthodontic consultations are $175 which include a personalised treatment plan by our Specialist Orthodontist, Dr Daniel De Angelis, as well as X-rays, scans and photos.
If you decide to go ahead with treatment, the cost of the initial consult is taken off the cost of the retention phase of your treatment. If you have private health insurance, you may also be able to claim some of the cost of your initial consult, depending on your level of cover.
Making a booking is easy! You can book online anytime, at a time that suits you, or give us a call on 133 862 (Mon – Fri, 8am – 5pm) to arrange an appointment in one of our clinics located in Modbury, St Peters and West Lakes.
* Data on file.
** Compared to aligners made with commercially available material. TruGEN material stains less than other leading material.