Adelaide's Leading Orthodontic Specialists in Braces, Invisalign and Spark Clear Aligner Treatments
We are Adelaide's leading orthodontic practice, specialising in braces, Invisalign and Spark clear aligner treatments. Designed to help you achieve a beautiful and healthy smile, we work with you to choose which treatment is right for you and your family. Orthodontic treatments Adelaide.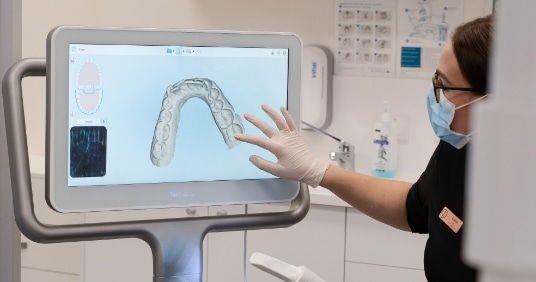 Adelaide Orthodontist
Dr De Angelis is one of the most experienced Specialist Orthodontist's in Adelaide. He has treated over 10,000 patients – that's a lot of transformed smiles!
Dr De Angelis was one of Australia's first providers of Invisalign Clear Aligners and one of the Top 5 Spark Aligner providers in Australia, so you know you are in experienced hands.
Invisalign isn't new to us. Dr De Angelis has been using Invisalign for over 18 years, and has treated more than 700 patients in Adelaide with Invisalign.
Working alongside Dr De Angelis to deliver orthodontic care, is our professional and caring team of Clinicians who have degree or Advanced Diploma qualifications in Oral Health.
Orthodontic Treatments Adelaide
Braces
We specialist in braces and they are still as popular and effective as ever. Dental braces are a very effective orthodontic treatment used to straighten and reposition misaligned teeth. The two types of dental braces we use are metal and ceramic braces. Read More.
Invisalign Clear Aligners
The Invisalign clear aligner system is a virtually invisible treatment that uses an innovative approach to gently yet effectively straighten your teeth. And the best thing? No one will even know! Read More.
Spark Clear Aligners
The Spark clear aligner system works just like the leading clear aligner brand on the market. It's virtually invisible and moves your teeth gently into position. Read More.
Early Orthodontic Treatments
Early orthodontic treatment is helpful in determining whether your child has any problems with their jaw or teeth. When children are between the age of seven and ten they may also be easier to treat.
Orthodontics Australia recommends children should visit a specialist orthodontist for an assessment from seven years of age.
Seeing us at this age allows us to evaluate your child's existing and incoming teeth and determine if early treatment is necessary. At this age, children may also be easier to treat.
Earlier treatment can be financially beneficial, as correcting a potential problem before it eventuates can be less complex than delayed treatment.
Early orthodontic treatment may include Carriere Motion 3D appliance which is used to correct the bite before braces or aligners are used. This generally means shorter overall orthodontic treatment time leading to a beautiful smile sooner than ever before.
Custom Fitted Mouthguards
TOC patients can access super affordable custom fitted mouthguards to protect their teeth while in braces or clear aligner treatment:
$60 for a custom mouldable mouthguard made in clinic
$75 for a custom made mouthguard using a scan of the teeth and made in our lab
Appointments
Knowing what to expect as a patient is really helpful in making the patient experience one you are completely and positively happy with!
We take bookings over the phone or online. With our online system you can choose an appointment date and time that suits you without having to pick up the phone. We offer traditional in clinic appointments as well as online (virtual) appointments.
What to Expect at your First Appointment
At your initial consultation you will be assessed by Dr De Angelis where you can discuss any concerns or issues. Dr De Angelis and our Treatment Coordinator will talk you through the best personalised treatment option for yourself or your child.
Our Treatment Coordinator is there to help Dr De Angelis record all notes for your patient file, as well as answer any questions you might have with regards to treatment, how long treatment will take, costs and anything else you'd like answered.
After the initial examination (at the first appointment), one of our friendly Treatment Coordinators will go through a detailed treatment plan, including the cost and the expected timeframe and answer any questions you may have.
Your first consultation may also include X-rays, scans and photos. These are all taken so Dr De Angelis can tailor a personalised treatment plan just for you and your individual needs. This may include braces or clear aligners such as Invisalign or Spark.
Once you go ahead with your personalised treatment, you will see Dr De Angelis as well as our team of professionally qualified Clinicians, and Clinical Assistants.
Our friendly team of professionals will deliver your orthodontic care and treatment plan.
Interest Free and Flexible Payment Plans
Cost shouldn't be a barrier to your dream smile which is why we offer flexible and interest free payment plans.
Monthly instalments over 20 or 24 months means you can have your beautiful smile and your lifestyle too. Find out more about our payment plans..
Orthodontics Treatments Adelaide
Call us on 133 862 or click here to make an appointment today.