Invisalign and Spark Clear Aligners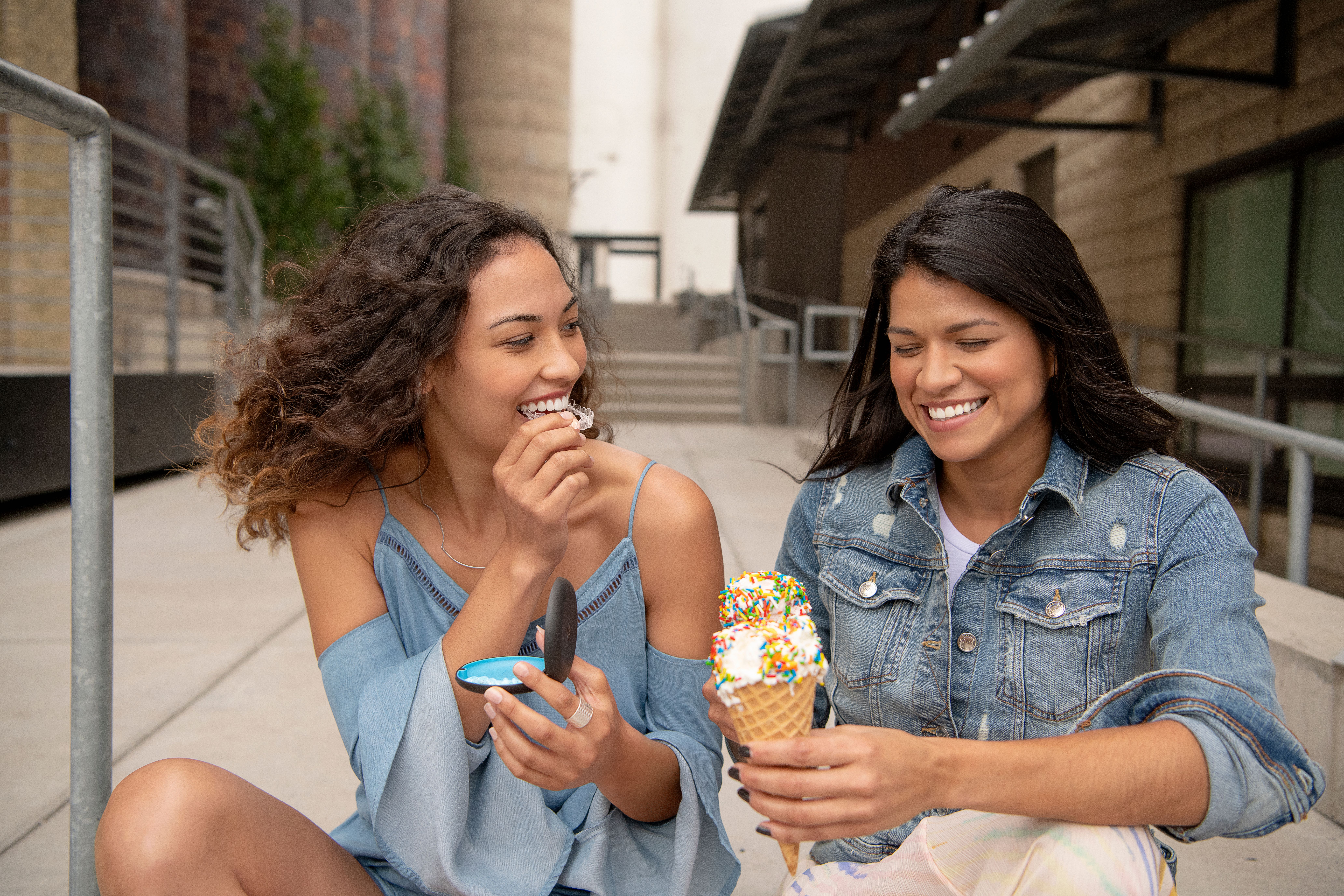 If you have chosen to transform your smile with Invisalign, below are some tips for maximising your treatment.
If you are thinking about Invisalign, we provide no obligation Invisalign consultations for $175. This includes an assessment by Dr De Angelis, a personalised treatment plan as well as X-rays, scans and photos. Book online here.
If you decide to go ahead with treatment, the cost of the initial consult is taken off the cost of the retention phase of your treatment. If you have private health insurance, you may also be able to claim some of the cost of your initial consult, depending on your level of cover.
Top Tips to Maximise your Invisalign Treatment
Wear each clear aligner for 20 to 22 hours a day during your treatment for best results and a timely outcome.
You can usually eat what you want while in treatment because the Invisalign aligners are removed when eating or drinking. This means you don't need to refrain from your favourite foods and drinks. However, it's recommended that you floss and brush your teeth after each meal and prior to re-inserting your aligners to maintain proper oral hygiene.
We recommend that you don't drink while wearing the aligners. This is to avoid cavities and stains forming on your teeth, or warping your aligners with hot beverages.
We recommend no smoking while wearing aligners because it's possible for them to become discoloured.
If you love your chewing gum we recommend removing your aligners as the gum may stick to them.
Visit us for a check-up approximately every 6-8 weeks to see how your treatment is progressing. During your check-ups, we will check that the aligners are fitting well and make any adjustments if necessary.
Some people might experience temporary, minor discomfort for a few days at the beginning of each new stage of treatment. This is normal and is typically described as a feeling of pressure. It's a sign that the Invisalign aligners are sequentially moving your teeth to their final positions. This discomfort usually goes away a couple of days after you insert the new aligner in the series.
If you notice a sharp pain or have significant discomfort, stop using the aligners and please contact us on 133862.
If you are a Dental Monitoring patient we urge you to keep on top of your scans. Taking your regular scans when prompted by the app means you can have your straight smile sooner! By scanning on time the progress of your treatment is more precise and comfortable in a shorter amount of time. That means you can have that straight smile as quickly (but as safely and gently) as possible! If you stop scanning though, you may extend your overall treatment time.
Everything You Need to Know About Clear Aligners
We share everything we know about clear aligners (which is a lot!) over on our blog.
For more information visit www.invisalign.com or book your no obligation consultation here.