Teeth Straightening Adelaide – Benefits of Dental Monitoring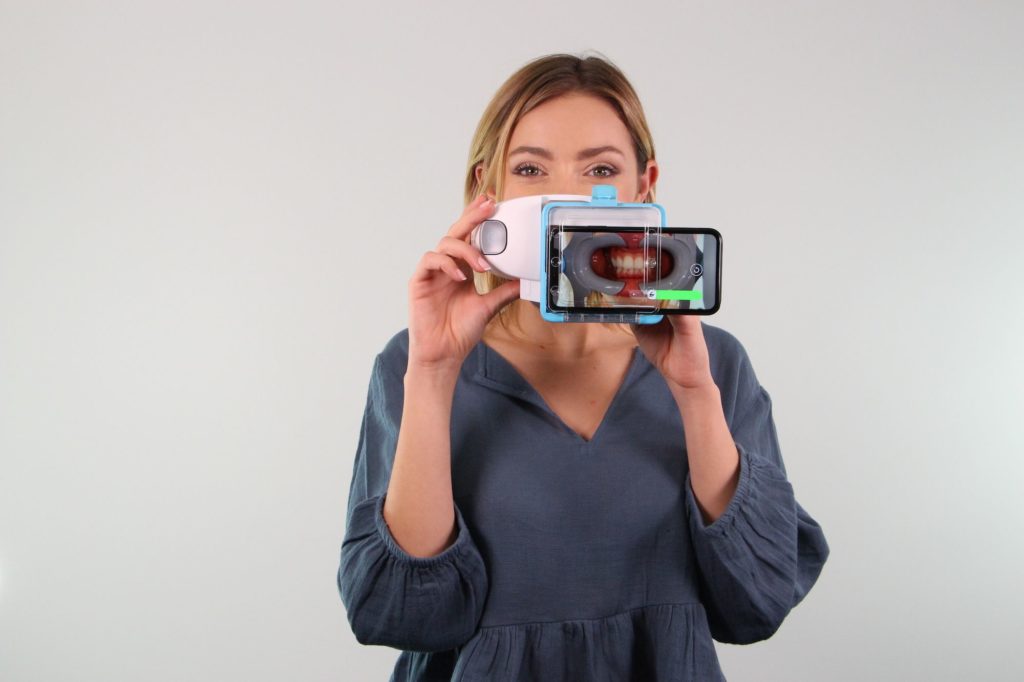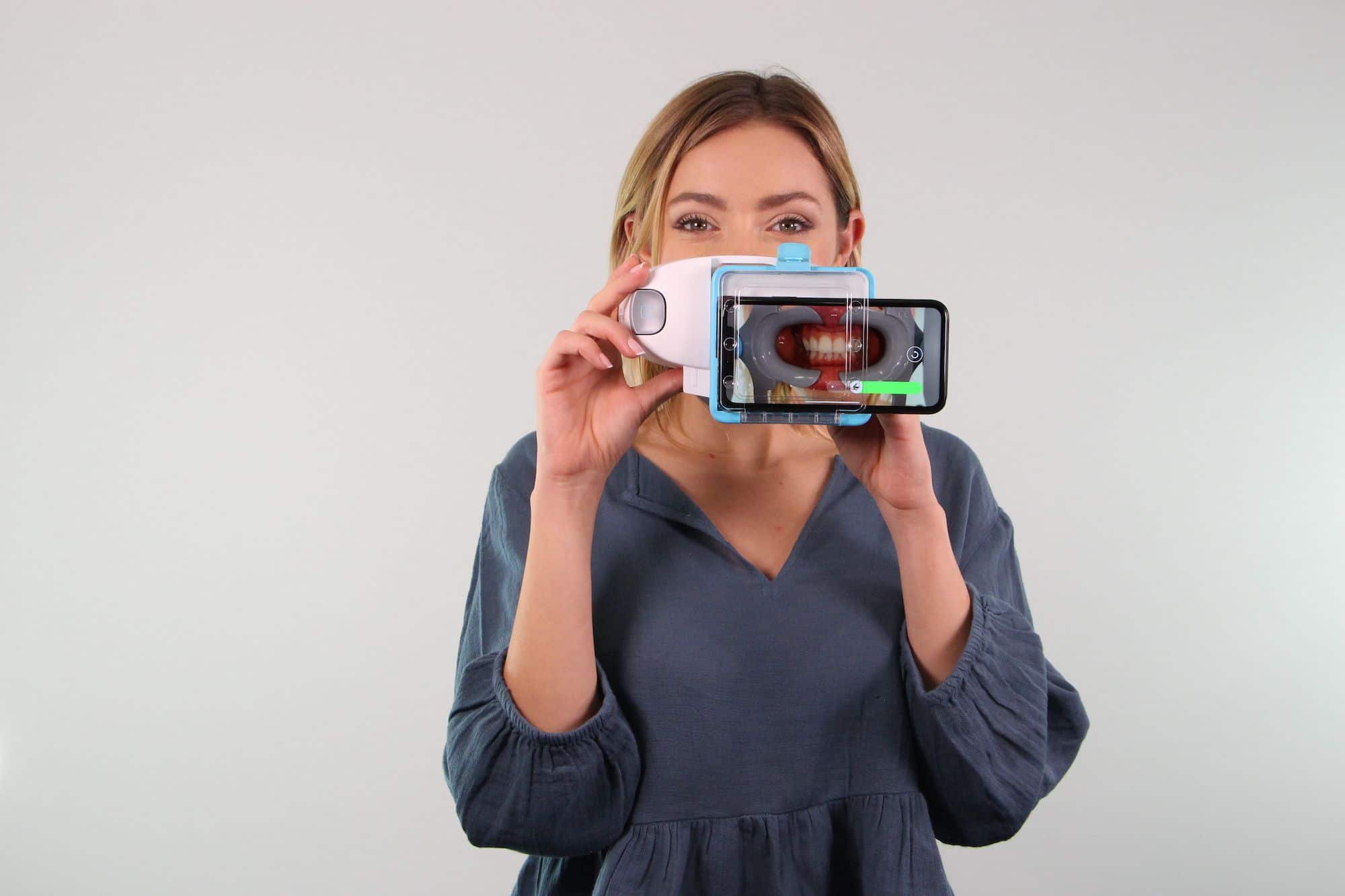 Teeth Straightening Adelaide – Benefits of Dental Monitoring
As a Specialist Orthodontist, I take great pride in correcting and straightening my patients' smiles. Many of my patients are pleasantly surprised at how painless and simple the process is, and often wish they had started sooner. I'm passionate about helping my clients achieve their best smile with our services.
Orthodontics has come a long way in recent years with new technologies, treatments and ways of delivering services in the busy lives we lead. State of the art technology has actually made it possible to straighten your teeth faster – without affecting your busy lifestyle!
Thanks to Dental Monitoring (DM), you can have the smile you've always wanted without taking time away from things you'd rather be doing – and in a much shorter time as well. I've been using DM with my patients for six years with fantastic results that I'd love to share with you.
So what is Dental Monitoring? How does it work? And how can it help you? Read on to learn the benefits of dental monitoring for teeth straightening in Adelaide.
What is Dental Monitoring?
Dental Monitoring is an app you can download onto your smartphone allowing you to take weekly or monthly scans of your teeth, so I can track the progress of your aligner or braces treatment. Once you upload your scans into the app, I can monitor your treatment remotely – from your home, work or anywhere in between.
Using artificial intelligence technology, DM makes orthodontic healthcare more accessible, no matter where you are or how busy your schedule is. The progress of your treatment is more precise and comfortable in a shorter amount of time. That means you can have that straight smile as quickly (but as safely and gently) as possible!
If there are any issues during your treatment, you can always come in and see me in person.
Who can use Dental Monitoring?
Anyone who is undergoing orthodontic treatment and has a smartphone can use dental monitoring. The DM app is compatible with both iOs and Android systems.
DM is effective with both braces and clear aligner patients. It is also suitable for people of all ages – from children to adults.
In fact, DM allows your older children and teenagers to take more initiative and responsibility for their clear aligner treatment. How? Because not only do I track the wear of the aligners and report any potential problems as they occur, but I also hold your children accountable for the use of elastics and their oral hygiene.
How to use Dental Monitoring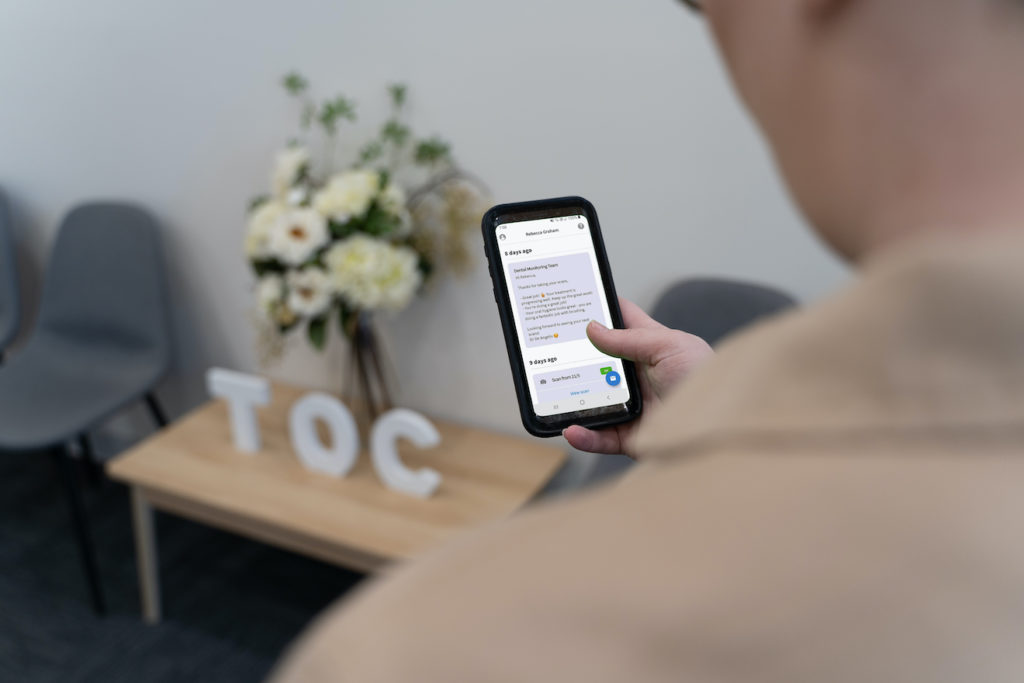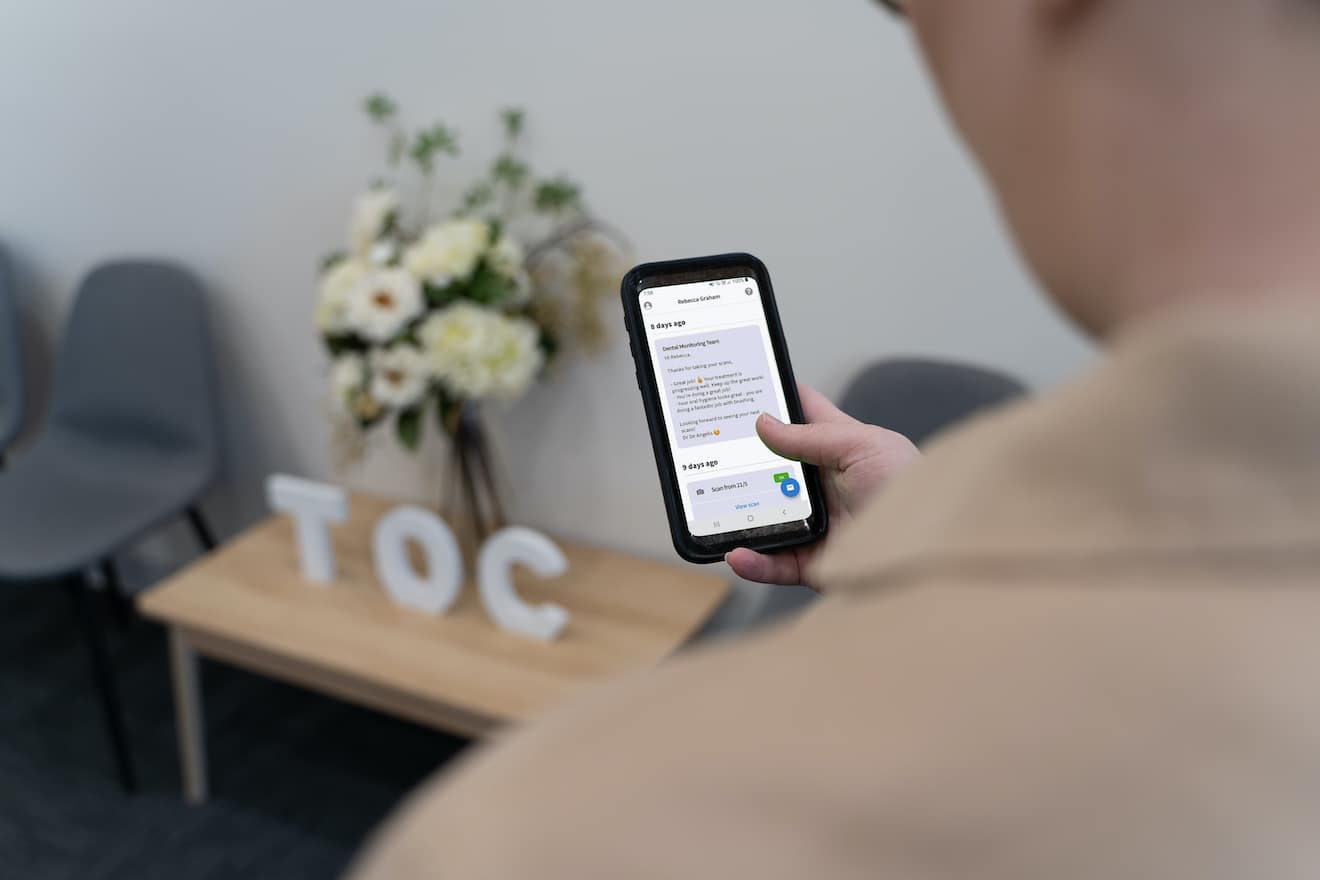 Download the app
To get started on your DM journey, download the app onto your smartphone. You can find the app on Google Play or the App Store.
We will talk you through how to use the DM ScanBox and app to help get you started. You will receive an activation email with everything you need to log in once your Monitoring starts.
Start taking scans
Now that your DM app is up and running, you can now take and send scans of your smile to me directly. The app will send you a notification reminder once a week when you are due to send a new scan. You will be given a Cheek Retractor Tool and/or a Scanbox to help you take the best scans possible.
When taking scans of your teeth, it's crucial that your photos:
Aren't blurry
Isn't taken from too far away or too close
Is well lit and not too dark
Have your mouth in the centre
Don't have your lips or tongue hiding your teeth
If you need more guidance on how to take photos using the DM app, you can watch our video or read our blog.
I receive your scan
After you submit your new scan each week for aligner patients (or each month if you're a braces patient), I receive a notification. Through DM's in-app messaging system, I can connect remotely with you without you having to step foot into the clinic! If progress is going well and your teeth have moved sufficiently since your last scan, I will let you know via the app to progress onto your next aligner.
I can also let you know if your oral hygiene is declining due to aligner wear and what areas you need to improve your brushing. Or, if your aligner is not fitting correctly, I will advise you via the app that you need to continue wearing the current aligner a little longer and use your chewies.
Monitor your progress
The DM has AI-powered photo time-lapse technology that shows how your teeth are moving towards your goal. Your progress is updated every time you take a new scan. You can also see for yourself in the app how your treatment is progressing. This really helps my patients stay on track with their treatment as they're able to see how far they've come.
What are the benefits?

Achieve your straight smile faster
The DM app allows me to monitor your treatment more frequently – weekly rather than every 12 weeks – so I'm able to identify any issues immediately instead of waiting to see you at your next routine appointment.
This frequency of treatment monitoring means more precise results in a shorter time frame as potential problems are addressed straight away. So you can have your perfect smile sooner than you thought!
Have orthodontic treatment anywhere
It doesn't matter where you are – at home, work, travelling, or even in another country – you can have orthodontic treatment anywhere. We are currently treating top Aussie model, Akiima, who is living in the USA. I'm able to monitor her treatment closely here in Adelaide with the DM app!
Fewer visits to our orthodontic clinic
Thanks to your weekly scans via the DM app, you will only need to come into the clinic every 12 weeks – or more if I've identified an issue on DM. Without the weekly scans, you will need to see me at the clinic every six weeks.
This means you won't have to schedule time off work or school, or take time out of your busy day as often.
Rest assured that fewer in-clinic appointments do not compromise your orthodontic treatment. DM actually enables me to monitor your teeth more closely than ever before – I'm able to pick up any issues straight away, rather than just at your six-weekly appointments.
I have been using Dental Monitoring for six years and I'm confident you'll love the flexibility, benefits and the results it can deliver for your clear aligner treatment or braces transformation!
Book Your Orthodontic Consultation
Our orthodontic consultations are $175 which include a personalised treatment plan by myself as well as X-rays, scans and photos.
If you decide to go ahead with treatment, the cost of the initial consult is taken off the cost of the retention phase of your treatment. If you have private health insurance, you may also be able to claim some of the cost of your initial consult, depending on your level of cover.
Making a booking is easy! You can book online anytime, at a time that suits you, or give us a call on 133 862 (Mon – Fri, 8am – 5pm) to arrange an appointment.
We are happy to answer any questions you might have on Invisalign and Spark clear aligners, Dental Monitoring, or anything orthodontic related!
Your Specialist Orthodontist in Adelaide
Did you know you don't need a referral to see us? We also offer interest free payment plans. If you have extras health insurance cover you may be able to claim for orthodontics – read more here.
If you have any questions or would like to talk to us, please feel free to contact us here. You can also reach us on 133 862.
Our orthodontic practice is located in three Adelaide locations:
Modbury
St Peters
West Lakes
You can also find us on Facebook and Instagram for regular information and updates.