Everything you need to know about clear aligners / Invisalign® part 2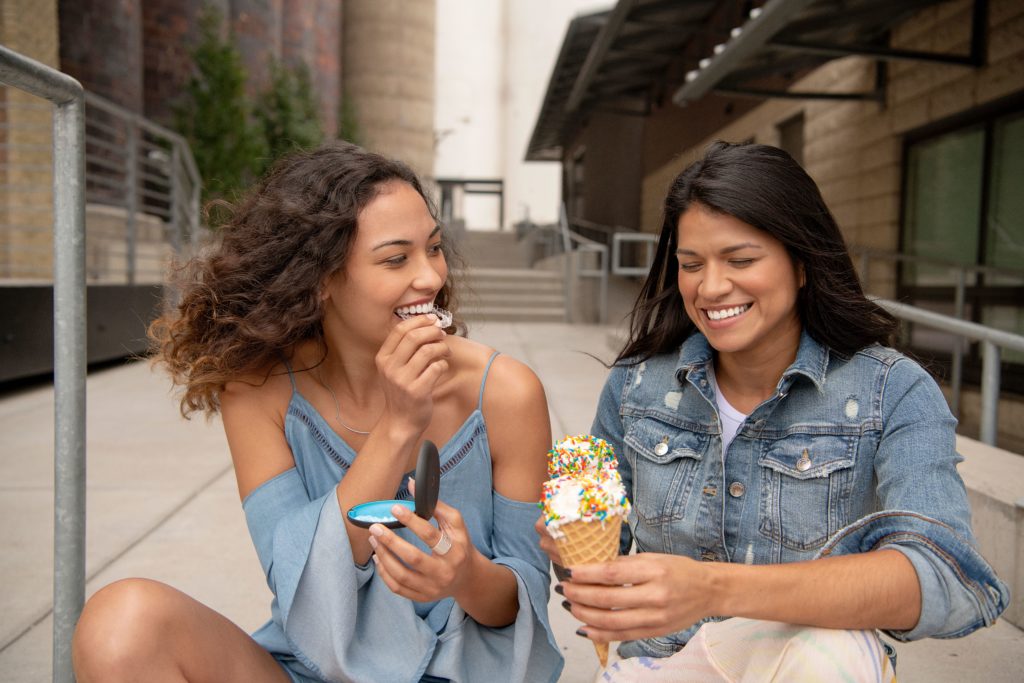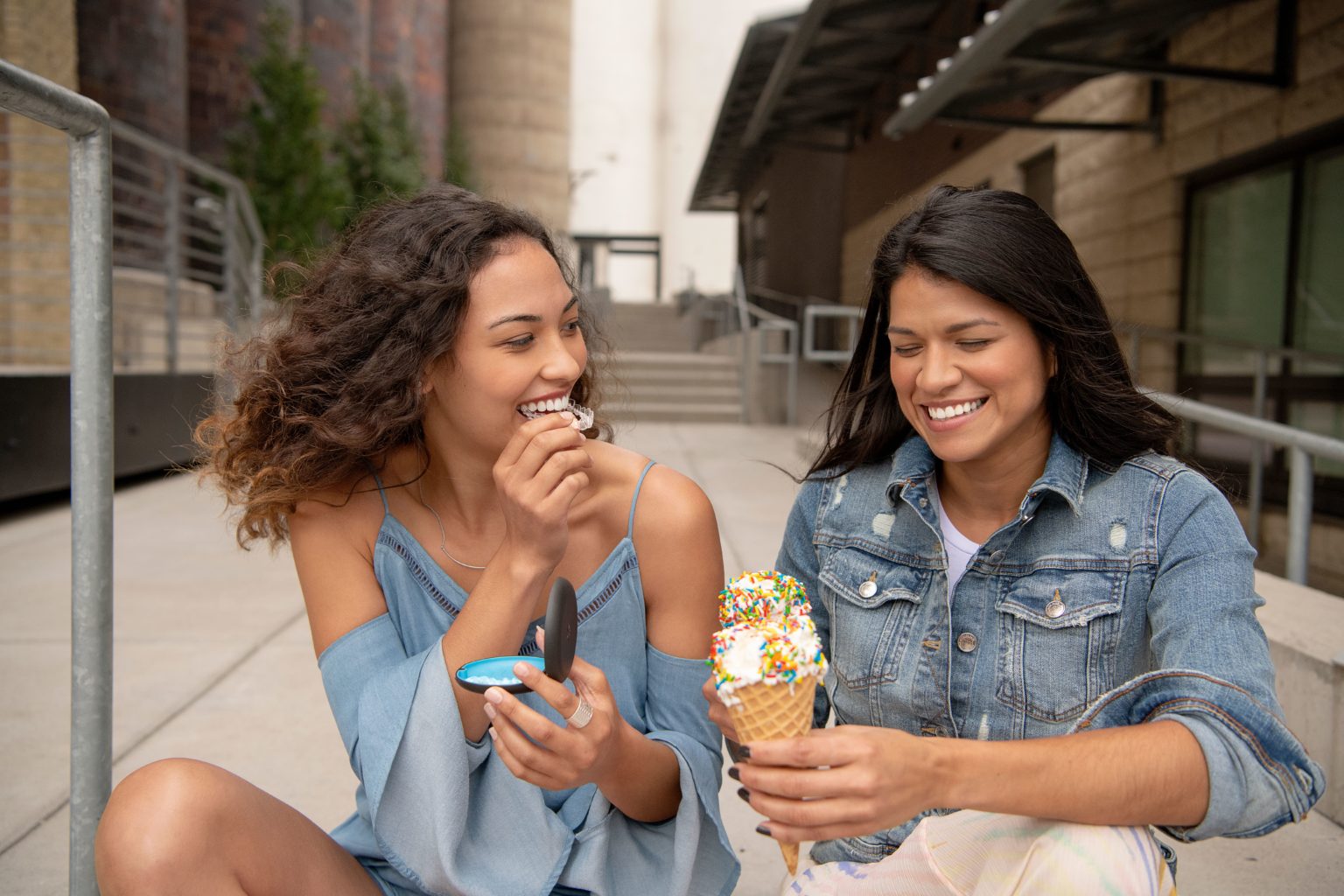 If the success of the work I do is measured in smiles, I'd like to think we are doing pretty well! In this blog, I'm sharing everything you need to know about clear aligners (part 2) such as Invisalign.
I have been using clear aligners for many years to transform smiles. If you have been contemplating clear aligners to straighten your smile, read on!
What are clear aligners? Clear aligners are a transparent, plastic form of dental braces that look like a thin mouthguard. They are used to gently adjust and straighten teeth and if needed, to correct jaw misalignments. Unlike braces, clear aligners are virtually invisible and can be removed for eating, drinking and brushing teeth.
Attachments are placed on the teeth to keep the clear aligners anchored so the teeth can be guided into their correct positions. Aligners such as Invisalign® and Spark use attachments to achieve the best results.
I specialise in both Invisalign® and Spark clear aligners and I always offer both options to our patients so they can decide which is the right choice for them. Both options gently move the teeth into the desired position with excellent precision.
What is aligner treatment?
Aligner treatment consists of a series of clear aligners that gently move and correct misaligned and/or crooked teeth. Treatment generally comes in two stages. Stage 1 does the majority of the work and Stage 2 is the refinement stage of the treatment.
Not all of my patients require Stage 2, I usually know more towards the end of stage 1 of the aligner treatment.  If I believe a 'refinement stage' is needed we take a new digital scan so we can make a few more aligners for you to wear to complete your treatment.
What is a refinement period?
A refinement period is sometimes required in the last stages of your clear aligner treatment to help your teeth achieve their ideal final positions. I want to ensure you get the best outcome so a little refinement towards the end of your treatment is sometimes recommended to get the best results.
It would include having a new scan and a few new aligners made for you to wear. I will know more towards the end of your treatment if you need any refinement. Many of my clear aligner patients don't require any refinement at all though.
Attachments, Buttons, IPR and Elastics
I run through these details in your first appointment but I know it can be overwhelming taking in so much information! As part of your aligner treatment you might have attachments, buttons, interproximal reduction and/or elastics.
Attachments


Attachments are small tooth coloured dots that are placed on specific areas of your teeth during your aligner treatment. The position and shape of these attachments help grip the aligner to move teeth. Attachments make complex movements such as intrusion, extrusion and rotation possible without braces. Clear aligners fit smoothly and tightly around the attachments, so they are barely noticeable.
Buttons
Buttons are small square or circular bumps put on your teeth. They are used to attach or anchor elastics. With Invisalign treatment, buttons allow me to get the teeth to move in such a way that might otherwise be difficult with aligners only.
Interproximal Reduction (IPR)
For an ideal result, I might prescribe Interproximal Reduction (IPR). IPR is also known as "enamel reduction" because it focuses on polishing away little layers of the outermost tooth enamel from multiple teeth in areas that are crowded or that surround crowded teeth. Flexible strips of very fine material, like sandpaper, are used to rub away very minimal layer of the outermost tooth enamel. This is a safe orthodontic procedure that won't affect the health of your teeth.

Elastics


Elastics or rubber bands are often an important part of orthodontic treatment. They provide the forces needed to move teeth and jaws into their correct position.
What happens at my first appointment? Find out here.

What happens after my first appointment?

If you are a new patient or a patient moving from Phase 1 (i.e. Carriere or RME) treatment to Phase 2 aligner treatment the process from when you get your scans, X-rays and photos taken to when your aligners are ready is shown in the table below.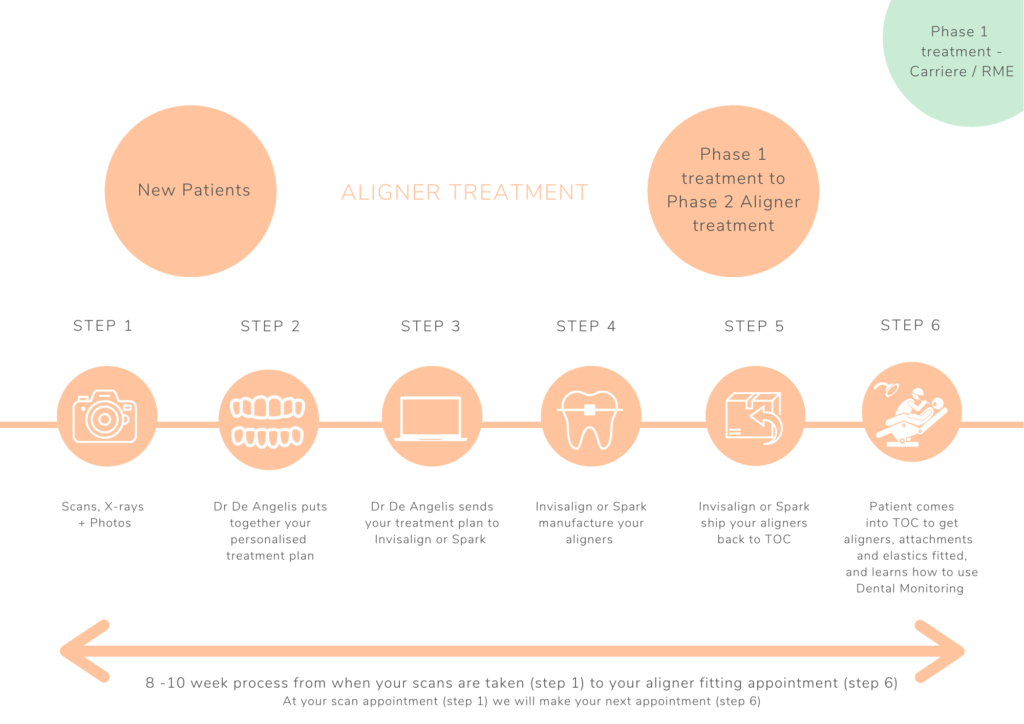 This process usually takes 8 – 10 weeks from when you have your scan, X-rays and photos (Step 1) to when you next come back into the practice to have your aligners fitted and handed over to you (Step 6).
What happens at the appointment where I receive my clear aligners?
Once Invisalign® or Spark have shipped your clear aligners to me I'll arrange for you to come into the clinic so we can discuss everything you need to know about your clear aligners. We will usually book you in for this appointment when you have your scans taken. When you come in to receive your clear aligners, we will run you through:
How to wear the clear aligners
The Dental Monitoring app, including how and when to take scans
When and how to change over your clear aligners
You will be given several sets of clear aligners based on your treatment plan. Change these weekly or as otherwise prescribed, as long as your teeth have moved like we need them to.
What happens once I receive my clear aligners?
I promise it's easy! Wear your aligners 22 hours per day, scan into Dental Monitoring weekly and you'll be set to get your straight smile as quickly, and seamlessly, as possible. Once you get the hang of it, and learn everything about clear aligners, it becomes second nature.
How does Dental Monitoring (DM) work?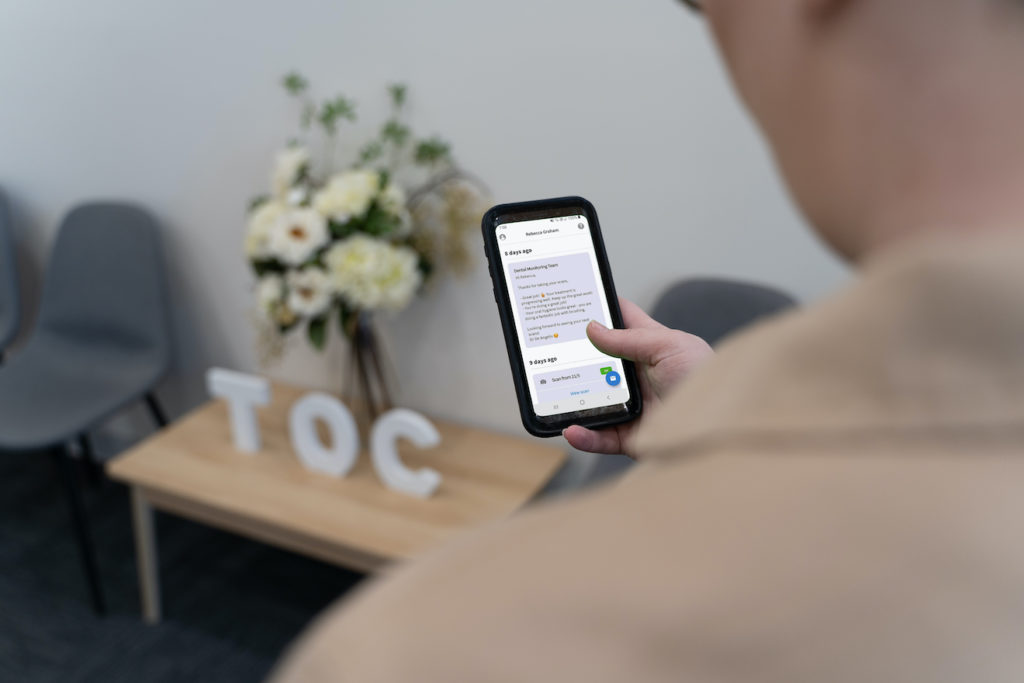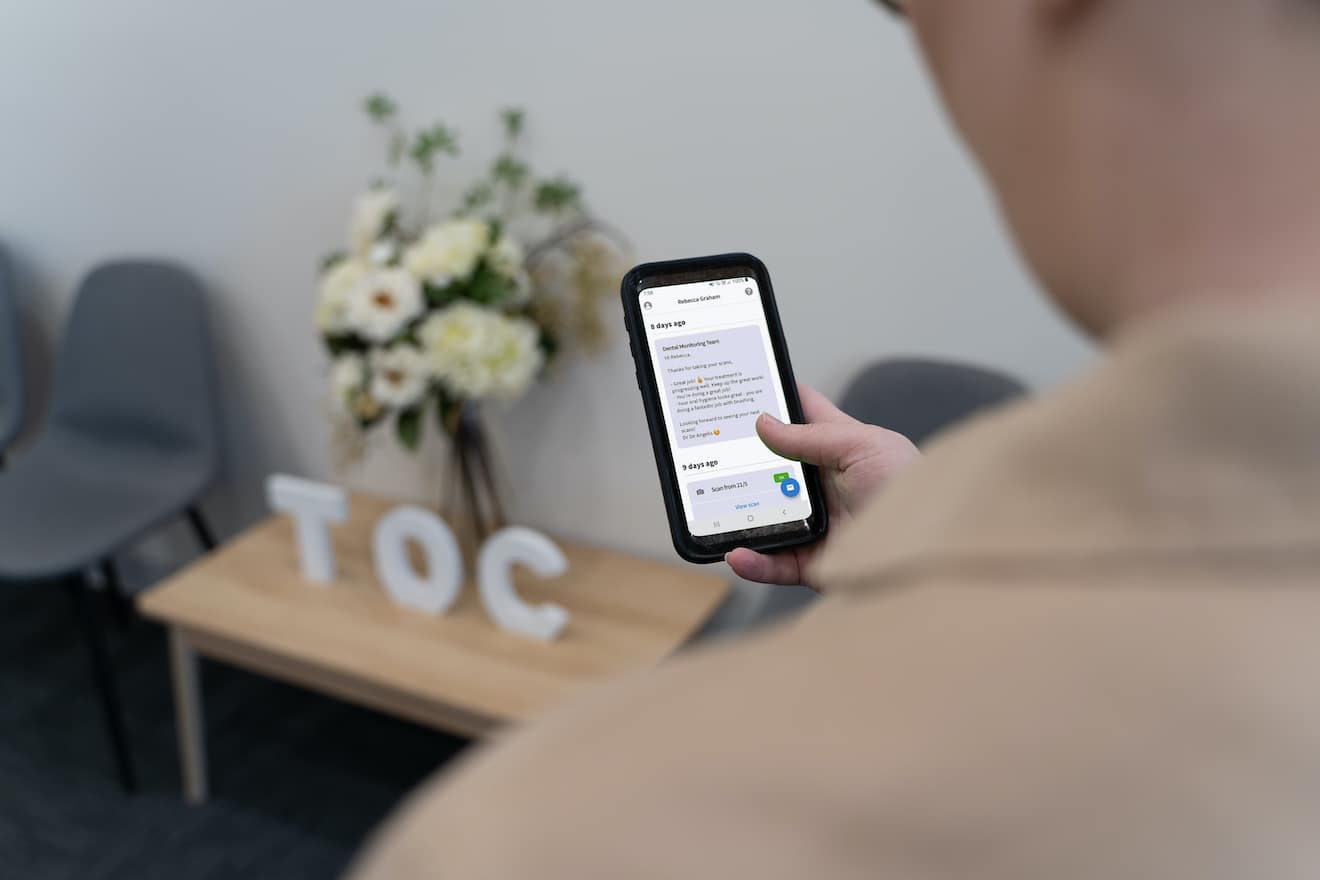 Dental Monitoring (DM) allows me to monitor your progress remotely and weekly. When you scan weekly into DM, your scan is automatically uploaded into DM's Artificial Intelligence engine where they are analysed by myself. This is how I monitor your treatment and provide you with the highest quality care and the best patient experience.
Scanning in Dental Monitoring
You'll take weekly scans with a Cheek Retractor Tool and/or a ScanBox. Once you scan, I analyse it and then send you a message via the DM app with a 'Go' or a 'No Go'.
'Go' means move onto your next set of aligners. A 'No Go' means you need to stay in your current set of aligners and re-scan in a few days time. Getting a 'Go' and moving onto your next set of aligners is a great feeling!
How often do I need to come in for an appointment?
If you are using Dental Monitoring, you'll come in for an appointment approximately every 12 weeks. Traditionally, prior to using DM, patients came into the clinic approximately every 6 weeks. Monitoring your treatment weekly on DM means I can detect if there are any teeth not moving as they should be, and then troubleshoot issues immediately. That's how cutting edge DM is!
If you weren't on DM you'd see me every 6 weeks, however, with DM you'll see me approximately every 12 weeks (or more if I need you to come in because I've identified an issue via the app).
Will less in-clinic appointments impact my treatment?
No! I want to reassure you that less in-clinic appointments doesn't compromise your orthodontic treatment. DM actually enables me to monitor your teeth more closely than ever before as I'm able to pick up any issues straight away, rather than just at 6 weekly appointments.
If there are any issues during your treatment though, you can always come in and see me. I am here for the long haul to ensure you get the best outcome from your orthodontic treatment.
Will I still see you for appointments?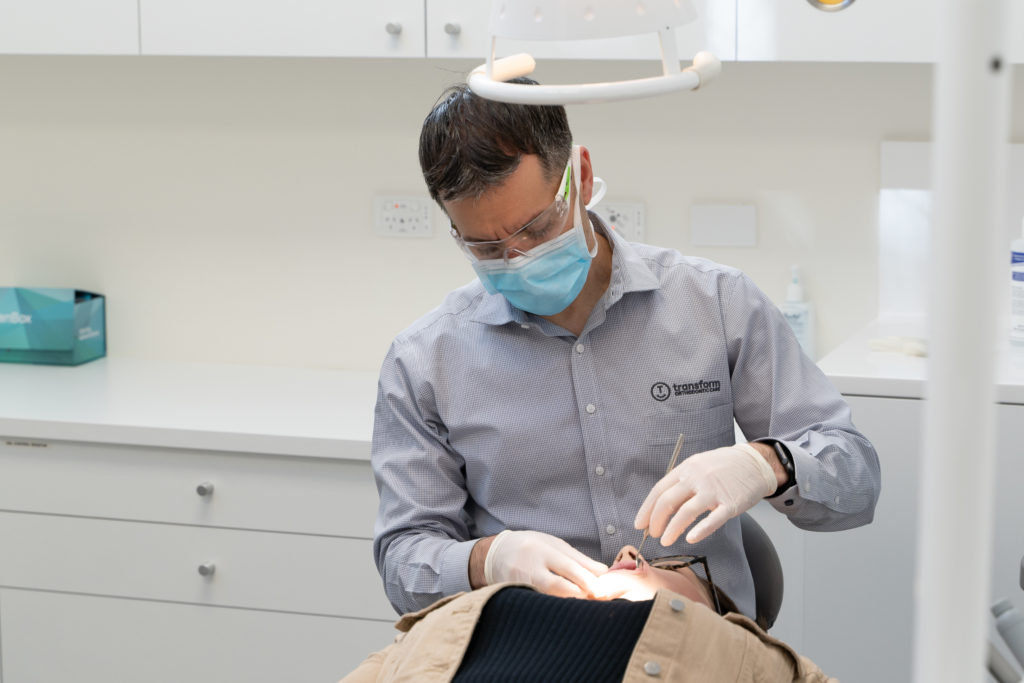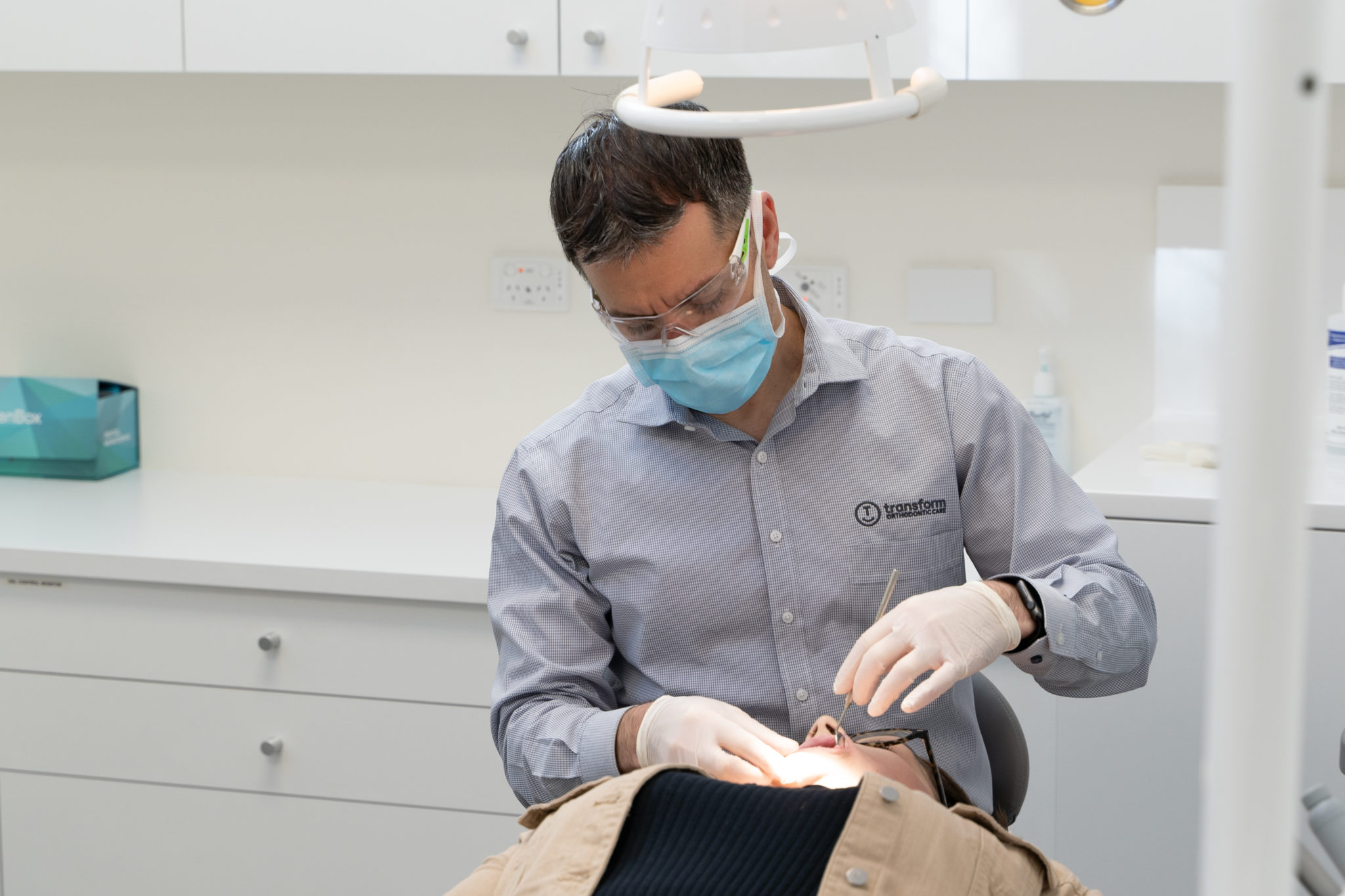 Yes, absolutely!
I deliver your treatment together with my team of professional, caring and qualified Clinicians who have undertaken degree or advanced diploma qualifications in Oral Health.
In addition, our team of Clinicial Assistants, Treatment Coordinators and Administrative staff are invaluable in delivering the care we proud ourselves on. You will get to know the entire team over the course of your treatment.
You will see me every 12 weeks in the clinic and I will monitor your progress on DM on a weekly basis. I am always there in the background ensuring your treatment is tracking as it should. On DM, I'll be able to see if there are any issues that I need to address in between your 12 weekly appointments. If that's the case, I will let you know you need to come in for an appointment.
Will the clear aligners hurt?
You might experience some tightness for the first few days when you start treatment and a little tenderness with each new aligner but this reduces over time. Some of my staff are on clear aligner treatment, and they haven't experienced any pain. They have reported a dry mouth though so you tend to drink more water!
How often do I need to change my clear aligners?
Your aligners are changed weekly, unless I have prescribed otherwise. For example, some patients wish to change their aligners every 5 days in order to get their treatment done faster. If patients are compliant i.e., wearing their aligners 22 hours per day and scanning every 5 days this is achievable.
How important is it to wear my aligners for 22 hours per day?
It's really important! Wearing your aligners less than 22 hours may mean your teeth won't have moved as much as we need them to. This will prolong your overall treatment time which we definitely don't want to do!
Want to learn more about clear aligners, such as Invisalign® and Spark?
I hope you now know everything about clear aligners, such as Invisalign® and Spark. If you want to know more about clear aligners for yourself or your child, we offer free, no obligation, consultations which is a great way for people to find out more about straightening their teeth.
Book an Orthodontic Consultation
Our orthodontic consultations are $175 which include a personalised treatment plan by myself as well as X-rays, scans and photos.
If you decide to go ahead with treatment, the cost of the initial consult is taken off the cost of the retention phase of your treatment. If you have private health insurance, you may also be able to claim some of the cost of your initial consult, depending on your level of cover.
Making a booking is easy! You can book online anytime, at a time that suits you, or give us a call on 133 862 (Mon – Fri, 8am – 5pm) to arrange an appointment.
Your Specialist Orthodontist in Adelaide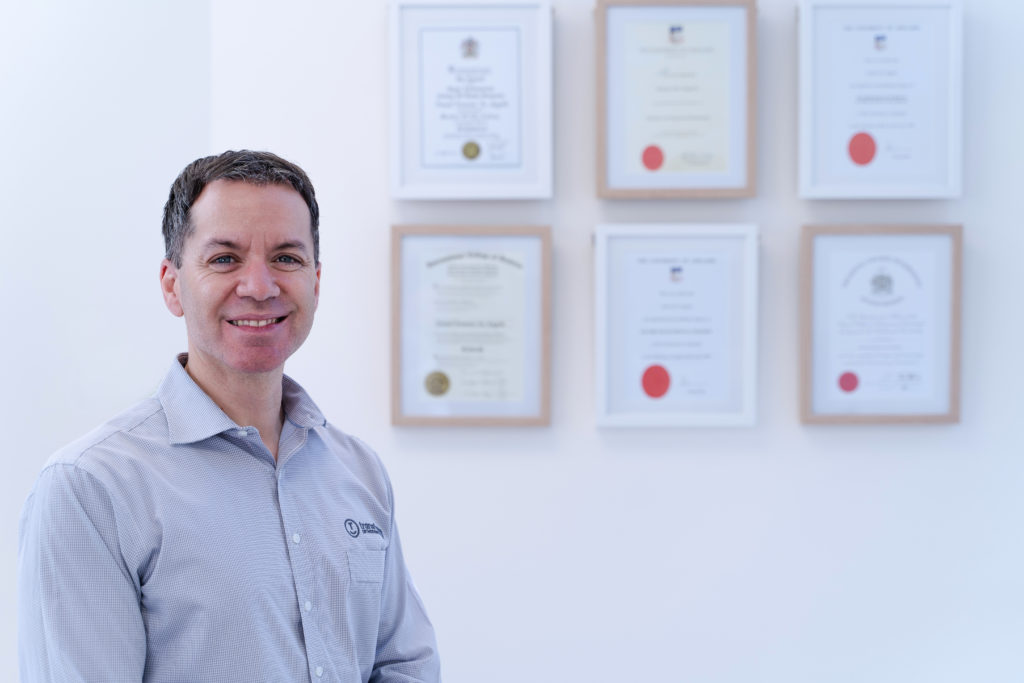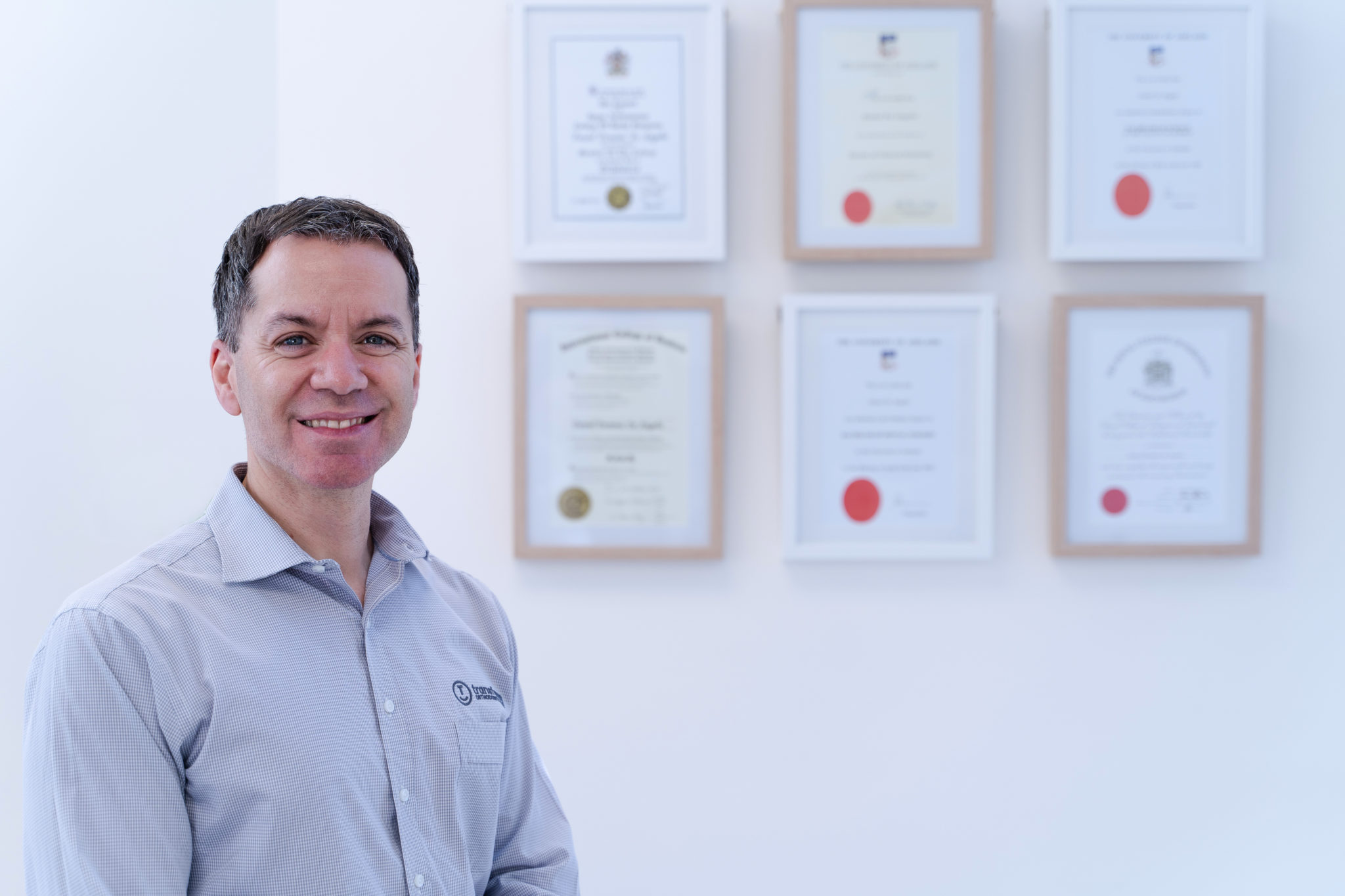 Did you know you don't need a referral to see us? We also offer interest free payment plans. If you have extras health insurance cover you may be able to claim for orthodontics – read more here.
If you have any questions or would like to talk to us, please feel free to contact us here. You can also reach us on 133 862.
Our orthodontic practice is located in three Adelaide locations:
Modbury
St Peters
West Lakes
You can also find us on Facebook and Instagram for regular information and updates.