The "final perfecting" stage of clear aligner treatment
By Dr Daniel De Angelis
Adelaide's Leading Specialist Orthodontist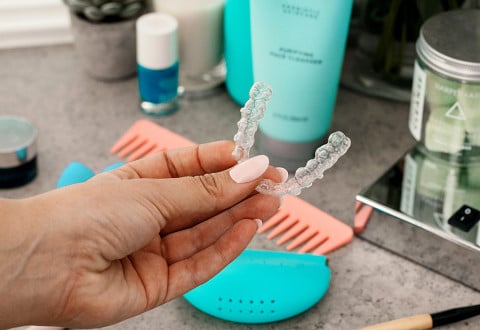 A question we commonly get is – what is refinement?
If you're having clear aligner treatment such as Invisalign or Spark you might hear about the refinement stage towards the end of your treatment.
What is refinement?
Refinement is sometimes required in the last stages of clear aligner treatment to help the teeth achieve their ideal final positions.
It's sometimes referred to as the "final perfecting" stage of clear aligner treatment. Especially if the aligners are no longer fitting as they should be.
Do I need it?
A refinement period is very common but not all patients need it. It doesn't mean the treatment wasn't done successfully.
I usually know towards the end of treatment whether it's needed. It's up to the patient whether they choose to go ahead with this last stage or not.
Why do you recommend it?
Some teeth need an extra "little nudge" to attain their desired position after your final aligner from your original plan. 
I want to ensure you get the best outcome so a little refinement towards the end of treatment is sometimes recommended to get the best results.
What does it involve?
It would mean having a new scan and a few additional aligners custom made for you to complete your treatment.
How much does it cost?
Great news is there are no additional fees so it costs you nothing. Our fees are all inclusive of the refinement period, if it's needed.
What do I need to do?
You don't need to do anything. Towards the end of your clear aligner treatment I will be able to to assess if I think you need refinement. At this stage we can have a chat and see if it's something you want to continue with.
Book your no obligation consultation
If you are looking for an experienced orthodontist in Adelaide, you can read more about my background here or simply make a booking with us today.
Book online anytime, at a time that suits you
Give us a call on 133 862 (Mon – Fri, 8am – 5pm) to arrange an appointment
We are located across Adelaide at Modbury, St Peters and West Lakes.
A no obligation consultation means you're not obligated to go ahead with the treatment. If you have private health insurance with orthodontic cover under 'extras' you may be able to claim part of your treatment cost, including the initial consultation.
We work with you to take advantage of our interest free payment plans and discounts when you come in for your initial consultation.