Unique World of Ancient Cities / Irina Mirosnitsenko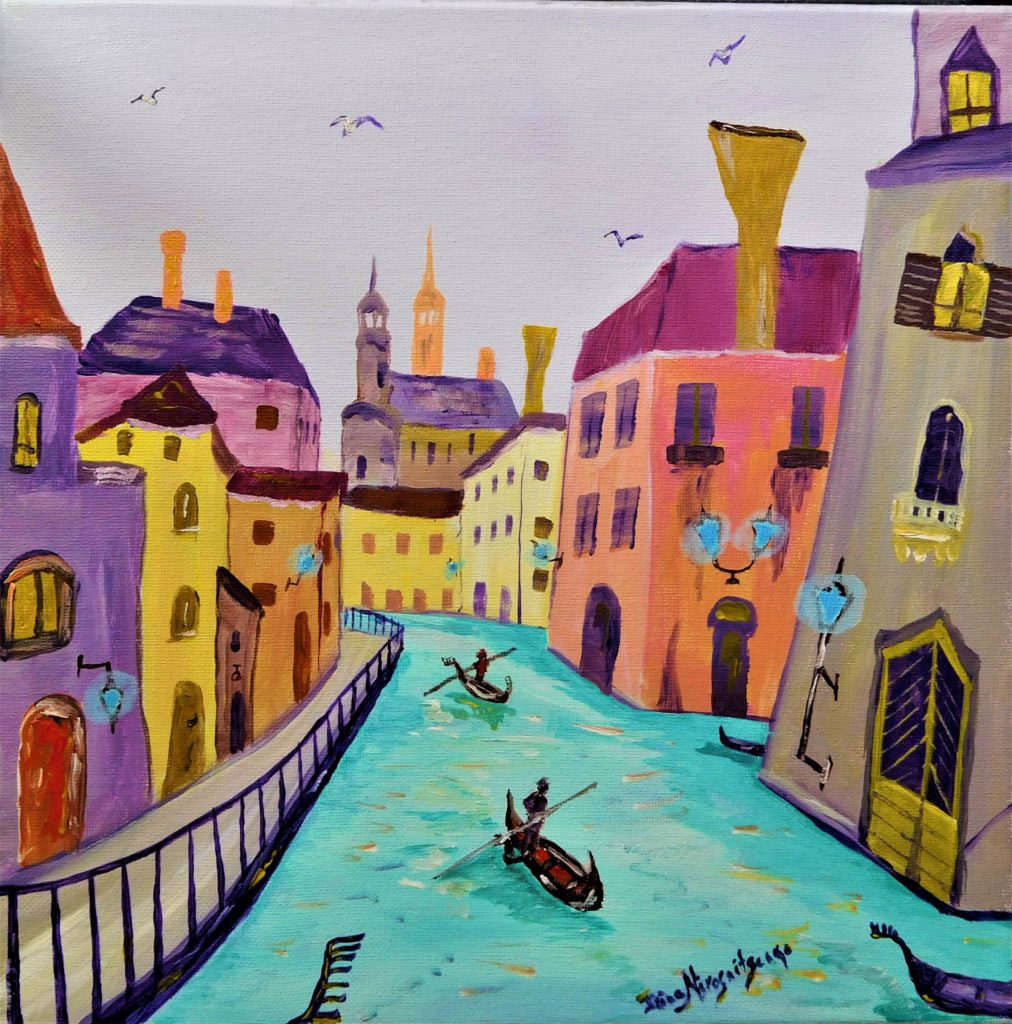 I am pleased to announce TOC's next artist in our latest Art Exhibition program at our clinic in St Peters Adelaide.  Working with the Norwood, Payneham and St Peters Council and our local community to promote art 'spaces'. One of those art spaces is our St Peters, Adelaide clinic.
I truly value being involved in the local community. and am absolutely delighted to introduce our next artist in residence, Irina Mirosnitsenko.
Irina was born in Tallinn, Estonia and came to Adelaide, Australia in 2002. Based in Adelaide, Irina is a visual artist who explores diverse subjects in her works but her latest exhibition is especially close to her heart. In Irina's words "the amazing Australian nature inspired me to create and find new ideas and experiments. The subjects of my paintings were diverse – nature, flowers, animals, portraits…"
Two Palettes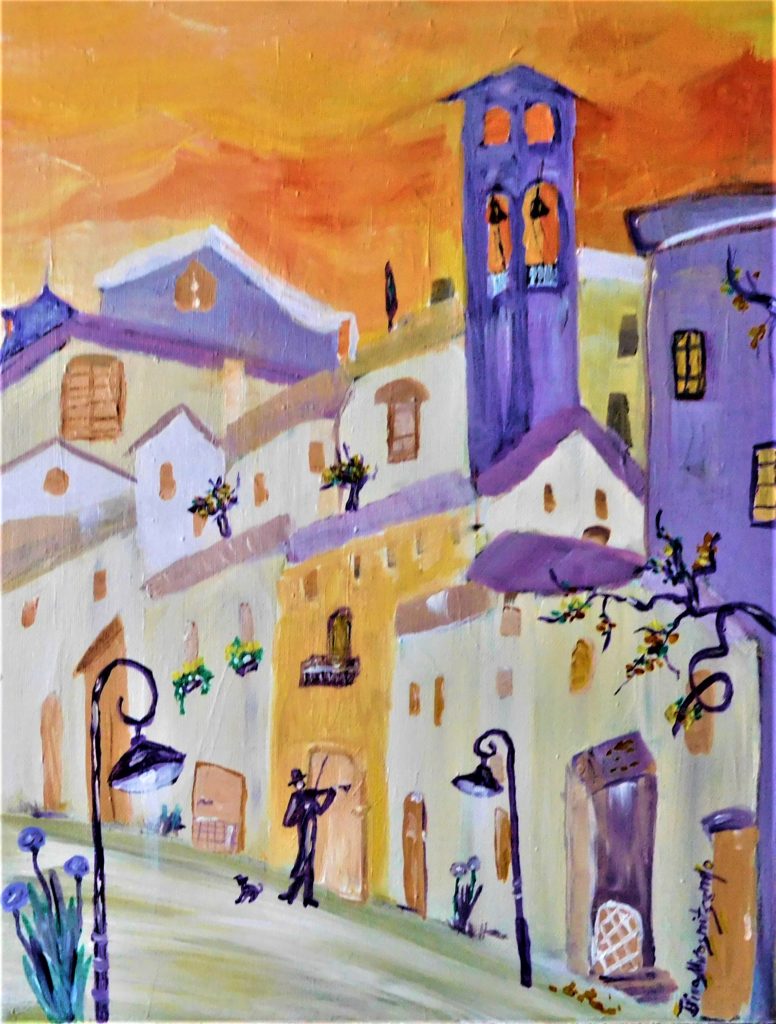 "Tallinn is a fabulous medieval city on the Baltic Sea. I was surrounded by ancient fortresses, cosy narrow streets, mysterious old buildings, and gothic churches. It seemed, that fairy-tales and ghosts were still living in the Old Tallinn. But wet cold Baltic weather made me dream about warm country.  My dream came true…I fell in love with Australia, the beautiful land, which inspired me to create and find new ideas and experiments. But Tallinn, my hometown, and other parts of medieval Europe have always lived in my heart"
"Speaking in the language of colours, there are two main palettes in my life. My world today is the bright colours of the magnificent Australian nature, filled with the chirping of birds and the delightful smells of flowers. My past world is a world of slight nostalgic melancholy, with foggy twilight, inky evenings, dim lanterns, copper weathervanes, and green moss on old walls. In my paintings, I combine these two palettes, enjoying the present, but remembering the past".
They've become the favourite subject of Irina's artworks, and the inspiration for her latest exhibition, "Unique World of Ancient Cities".
Unique World of Ancient Cities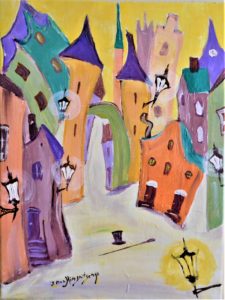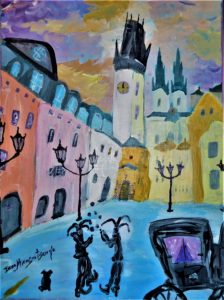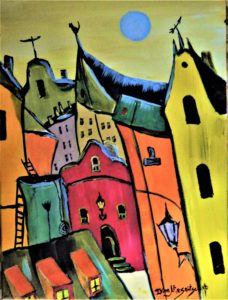 "Ancient cities are not like modern ones. Each ancient city has its own long history. Each old building is unique and keeps its own secret. Walking through the narrow streets of ancient cities, it seems that we find ourselves in a mysterious world in which the heroes of fairy tales still live. Ancient cities have a unique atmosphere and attract millions of tourists. They are open-air museums where everyone can find their own fairy-tale world".
Irina uses deep acrylic colours, free style and a mixture of reality, her imagination and elements of fairy tales. Irina's latest paintings invite the viewer to see how the narrow streets of ancient cities reveal their secrets and tell stories of their past. Irina loves to paint ancient cities and listen to the whispers of the past as she puts paint to canvas.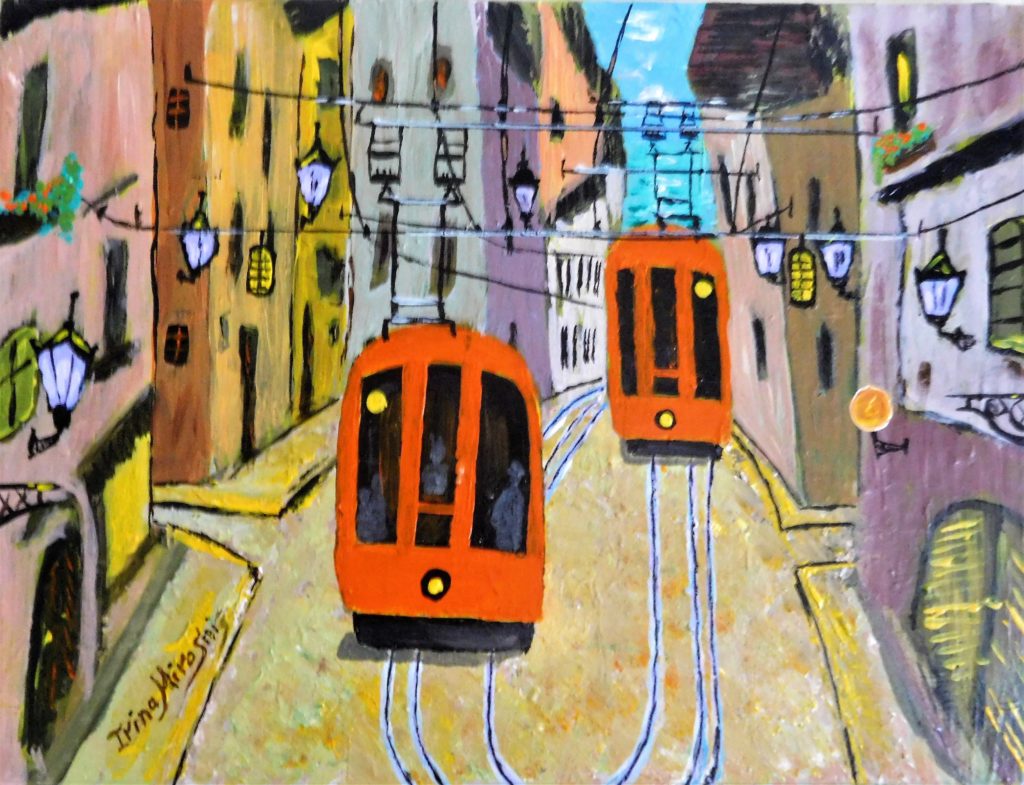 "Walking through the cosy old streets we just need a little bit of imagination to hear the clatter of hooves on the cobblestone pavement or see ghosts in medieval clothes"
Irina invites the audience to take a trip to the past centuries and wander through the narrow, slightly shabby streets in search of fairy tales…
Exhibition Viewing Dates and Times
I am absolutely delighted for patients at our St Peters clinic who will be able to become immersed in Irina's beautiful paintings.
"Unique World of Ancient Cities" exhibition is now on display at St Peters from 29 October 2021 until April 2022.
We welcome the public to view Irina's work by appointment by contacting us on 133 862.
Artworks for Sale
All of Irina's artworks are for sale. Speak to my friendly team with your enquiries and they will be happy to facilitate the sale of the artworks between yourself and Irina. We take no commission for the artwork, all profits go directly to the artist.
I hope you enjoy Irina's beautiful exhibition!