Your Invisalign® Questions Answered
By Dr Daniel De Angelis – Adelaide's Leading Specialist Orthodontist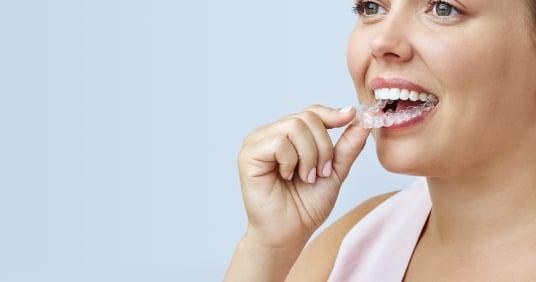 Can you eat ice cream while having Invisalign? Does Invisalign® give you a lisp? Do I sleep with my Invisalign® clear aligners? Is Invisalign® better than braces? Your most common Invisalign® questions answered in this blog!
These are just some of the common Invisalign questions myself and the TOC team get asked about Invisalign® treatment.
Can I eat while having Invisalign®?
Yes, absolutely! You can eat anything with Invisalign treatment. With Invisalign®, when you have a meal, you simply remove your clear aligners. Once you've eaten, brush your teeth (or rinse with water if you are unable to brush your teeth), and put your aligners back in.
Can I only drink water with Invisalign®?
You can drink anything while you have Invisalign® treatment, just not while your clear aligners are on your teeth. You can drink water while you have your Invisalign clear aligners on but for all other drinks (coffee, tea, wine, beer etc) you need to take them out. Once you've finished your drink(s) simply pop them back in. It means you can still enjoy a glass of wine with your dinner without worrying about your aligners. Which is great, right?!
Just be mindful that drinking anything other than water while your clear aligners are in can cause tooth decay.
Does Invisalign® give you a lisp?
When you wear your first set (also known as 'trays') of Invisalign® clear aligners you might find it will take a couple of days to get used to. This is perfectly normal! You may have a little lisp for the first couple of days but don't worry, it's temporary! Once you get used to the aligners you'll notice you won't have a lisp and wearing aligners will become second nature.
Does Invisalign® make your lips bigger?
Invisalign® doesn't make your lips bigger but it might appear as if they are bigger when you have your Invisalign® clear aligners in.
Do I sleep with my Invisalign® clear aligners?
Yes! You need to wear your Invisalign® clear aligners for 22 hours per day, this includes at night time while you are sleeping.
Sleeping with your clear aligners in at bedtime means you get a solid 7-8 hours of your clear aligners doing their job. You don't feel anything, you're asleep as per normal.
Is Invisalign® better than braces?
Braces and Invisalign® both move teeth into their desired position but it comes down to personal preference (if braces and clear aligners are both an option). Invisalign and Spark clear aligners are very popular as they are almost invisible and they can be taken out for meals, events and sports. On the other hand though, braces don't need to be taken off at all so they are great for people who don't think they would be able to wear aligners for 22 hours per day.
How long does it take for Invisalign® to start working?
Invisalign® clear aligner treatment starts working from the very moment you place your first set of aligners on your teeth! Each aligner is designed to move teeth in 0.25mm increments. These are very small increments because Invisalign is designed to move your teeth very gently and slowly. This is the safest and best way to move your teeth into their ideal position. What's exciting is you'll probably start to notice changes within the first few sets of aligners.
Is Invisalign® a permanent fix? Will my teeth move?
We want you to keep your new straight and beautiful smile for life. Orthodontic treatment doesn't end when you reach the end of your Invisalign® aligners. The retention phase is just as important as your Invisalign® treatment! Retention involves wearing a retainer for a period of time, and having a fixed bonded lingual wire on the back of your teeth, to ensure that your teeth don't move and that you keep your new smile for life!
Can kids as well as adults have Invisalign®?
We treat very young children from 7 years to adults aged in their 50s and 60s with Invisalign®. Age is no barrier and it's perfectly safe.
Can Invisalign® treat complex cases?
Yes they definitely can. Some patients have been told that aligners can't help them because their malocclusion is too severe, or that their smile can only be fixed with traditional braces. But that isn't the case. I have used clear aligners on many patients in Adelaide who believed they couldn't have aligners.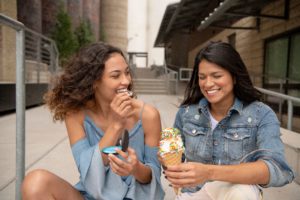 Do you have more common Invisalign questions you'd like answered? Give our friendly team a call on 133 862 or book an appointment online to get your smile makeover underway!